Cobalt Ventures began in 2014 with one simple concept: to make quality custom homes with a process that includes, informs and empowers the client.

We found that far too many builders in Nashville are hard to get a hold of, keep clients in the dark, and aren't honest about pricing. Wanting to eliminate these common frustrations, Cobalt was born.
To provide an easy and transparent home building process for clients, who will feel well-informed, included, and heard, while we build their quality dream home.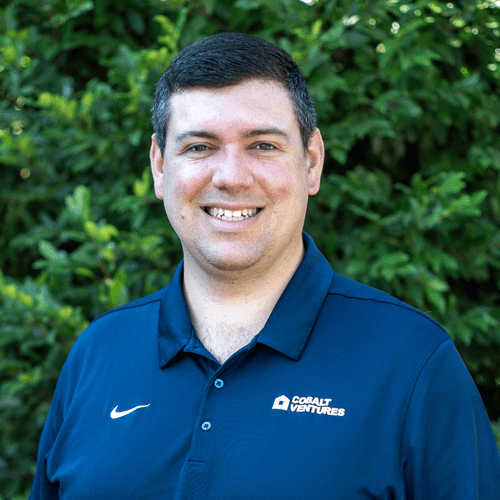 Trevor Garrett
Principal
Trevor Garrett is the President of Cobalt Ventures, LLC, which he founded in 2014. Initially a real estate development and investment company, Trevor added the construction division in 2018. Now Cobalt has completed over 100 projects across multiple project types including mixed-use developments, single-family subdivisions, custom homes, and additions/renovations. In addition to leading Cobalt's strategic direction as President, Trevor brings a technical expertise to Cobalt in project development, financing, codes and zoning.

Trevor's favorite part of the job is the watching the tangible creation of a home take shape. His favorite project to date is the Hadley Village development in Old Hickory with 39 townhomes and two retail buildings containing 15,600 square feet of space.
The Tennessee native received his graduate and undergraduate degrees in accounting from Lipscomb University. In his free time, he enjoys traveling, attending sporting events, and grilling.

Quick Items
Hometown: Memphis, TN
Favorite Jobsite Tool: Bluebeam (Construction Software)
Favorite Sports Team: Lipscomb Basketball
Favorite Restaurant: Joe's Seafood & Steakhouse (Las Vegas, NV)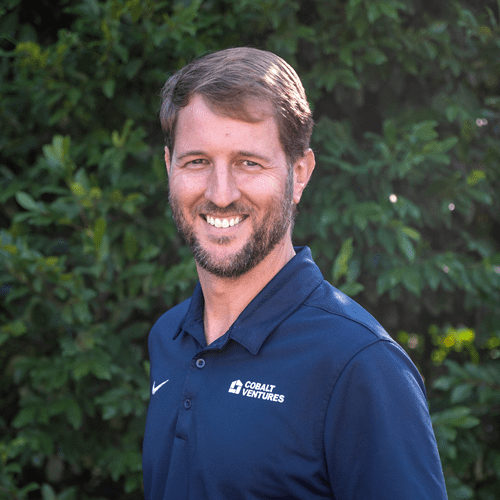 Kyle McCullar
Project Manager
Kyle McCullar joined Cobalt in September 2021 as a Project Manager. With a strong background as a custom homebuilder, with previous projects ranging from a $100,000 renovation to a $1.6M custom build, Kyle is well equipped to coordinate all things related to residential construction: estimating, selections, schedule, quality, customer relations, budgets, warranty. Most of all, Kyle enjoys helping clients through their unique challenges during the exciting process of building a home, as every project presents its own set of circumstances that the builder gets to solve for. When he's not helping clients, the University of Tennessee graduate enjoys spending time with his wife and three boys. He also enjoys the outdoors: golf, camping, hunting/fishing, sports, and travel. Quick Items Hometown: Memphis, TN Favorite Jobsite Tool: My Rigid Multi-Tool Favorite Sports Team: Tennessee Volunteers & St. Louis Cardinals Favorite Restaurant: Lockeland Table (Nashville, TN)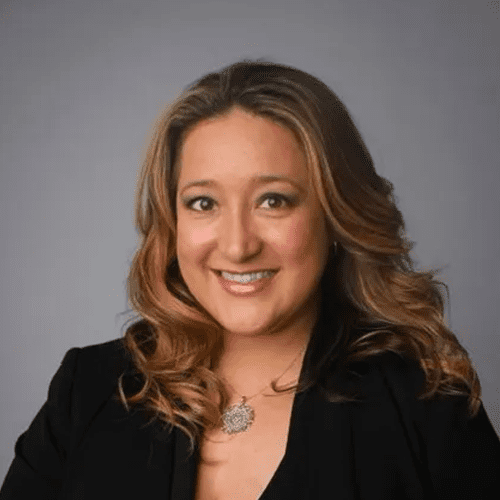 Veronica Oliva
Business Manager
Veronica joined the Cobalt team in July 2021 as Business Manager, where she serves as the bookkeeper while assisting the Project Managers and Director of Construction with day-to-day administrative tasks in all stages of the construction process. She holds seven years in the construction industry and she values the relationships she has built with Cobalt, especially getting to work with the Project Manager team every day. In her free time, Veronica enjoys wine tasting with her husband and traveling. Quick Items Hometown: Valencia, CA Favorite Jobsite Tool: iPhone Favorite Sports Team: Former Lakers Fan Favorite Restaurant: Bob's Steak & Chop House (Nashville, TN)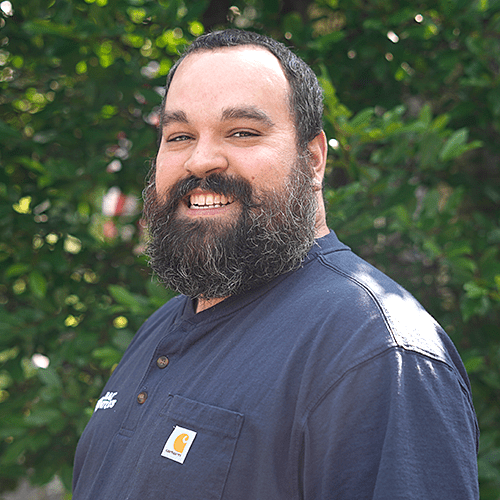 CJ Heredia
Estimator and Purchasing Manager
Cobalt's Estimator and Purchasing Manager, CJ Heredia joined the team in August 2023. With a background in commercial construction, CJ holds many years of estimating expertise, having previously worked at Nashville-based Steve Ward and Associates. Notably, CJ bid on numerous significant projects, including those at Vanderbilt, local schools, hospitals, and even ventures based in Knoxville.

CJ's passion lies in watching projects come to life. While primarily focused on commercial construction, he now applies his skills to the residential sphere, ensuring the meticulous planning and quality that Cobalt demands. With an educational background in welding and manufacturing technology, CJ combines his experience and precision to excel in estimating and material procurement. Outside of work, he enjoys family time, video games, and coaching soccer. Quick Items Hometown: Texarkana, AR Favorite Jobsite Tool: Skid Steer Favorite Sports Team: Nashville SC Favorite Restaurant: Most Mexican restaurants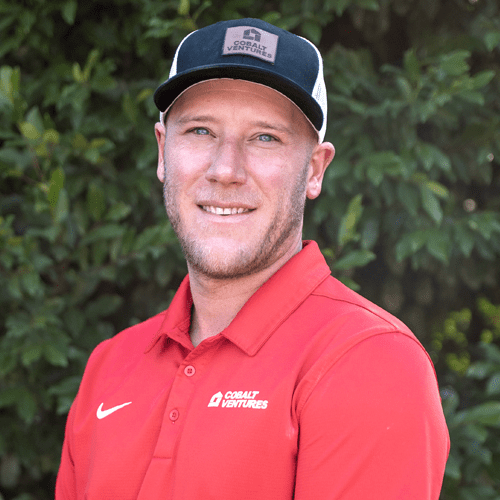 Blake Neelley
Senior Construction Manager
Blake Neelley started with Cobalt in May of 2021 as the main construction manager. It's likely that Blake will serve as your first point of contact as you explore working with Cobalt on your home project. He has 15 years of construction and project manager experience. Blake's favorite part of the process is congratulating the owners at closing and giving them the keys to their brand new home. In his free time, Blake enjoys playing golf and going to sporting events. Quick Items Hometown: Franklin, TN Favorite Jobsite Tool: Orange Spray Paint & Tape Measure Favorite Sports Team: Tennessee Vols, Titans, Preds, Braves Favorite Restaurant: Urban Grub (Nashville, TN)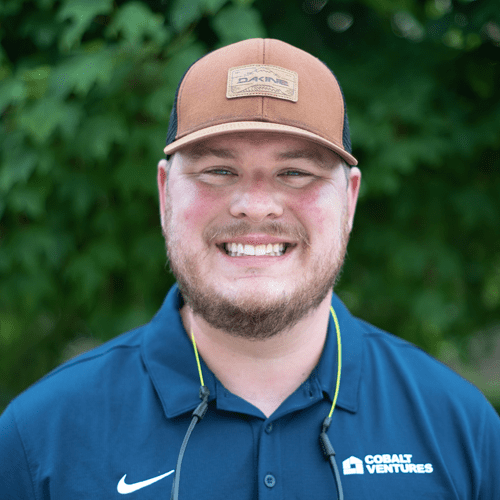 Trevor Gasaway
Construction Manager
Trevor Gasaway is a construction manager with Cobalt and joined the team in May 2022. Trevor previously worked as an operations manager for a construction supplier, where he gained knowledge of the day-to-day warehouse operations and was the liaison between the warehouse and sales team. Taking orders and making project bids for customers was part of his regular duties. What separates Trevor from others is his willingness to get his hands dirty. He doesn't shy away from field work, and that carries into his personal time as well, where he enjoys hunting and fishing. In fact, deer hunting is his main hobby. Quick Items Hometown: Cross Plains, TN Favorite Jobsite Tool: Impact Driver Favorite Sports Team: Arkansas Razorbacks Favorite Restaurant: The street taco truck on the corner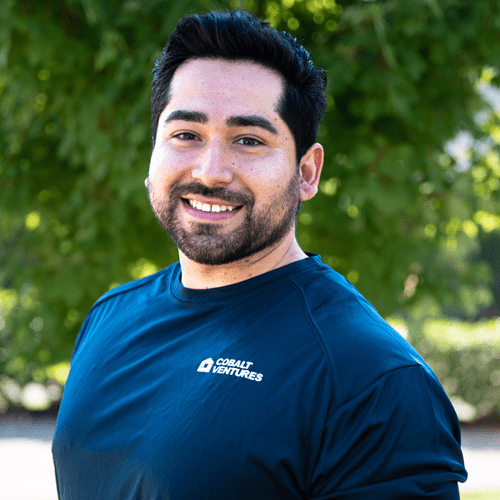 David Gonzalez
Construction Manager
David Gonzalez joined the Cobalt team in August of 2022 as an Assistant Project Manager. Prior to joining us, David worked for a company in San Jose, CA where he served as a project manager and site foreman. He has experience working on commercial and industrial projects, including notable builds such as the Marriott Hotel in Santa Cruz, CA; Hyundai North America Headquarters in Redwood City, CA; and the Tesla Factory in Fremont, CA. David has a passion for problem solving and the ever-changing nature of the job. Seeing clients happy with the end result is also a highlight for him. Outside of work, he enjoys staying active by going to the gym and taking hikes with his dog. He also enjoys using his artistic talents to illustrate children's books and create canvas paintings. Quick Items Hometown: San Jose, CA Favorite Jobsite Tool: Dewalt Reciprocating Saw Favorite Sports Team: San Francisco 49ers Favorite Restaurant: Tony's Napoletana (San Francisco, CA)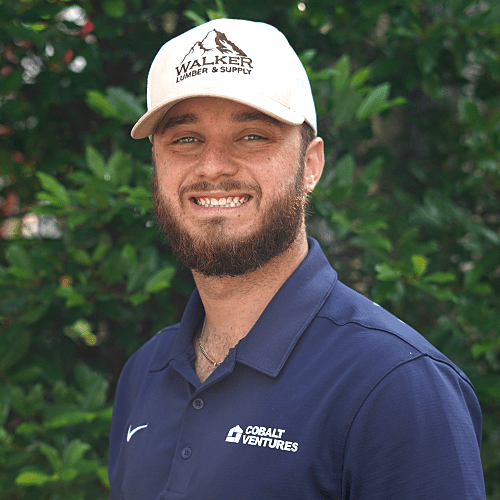 Justin McLean
Construction Manager
Justin McLean joined Cobalt Ventures in May 2023 as a Construction Manager. With a background at J2K Builders in Nashville, TN, Justin adds great enthusiasm and experience to the Cobalt team. Having worked on numerous custom homes in West Nashville, he has gained expertise in coordinating job sites from start to finish. With four years in the construction/home building industry, Justin's family background in construction further enhances his skills. Justin holds a degree in Engineering Technology and Construction Management from the University of Tennessee-Chattanooga. Outside of work, he enjoys playing golf in his free time. Quick Items Hometown: Mt. Juliet, TN Favorite Jobsite Tool: Any Power Tool Favorite Sports Team: Tennessee Titans and Vanderbilt Commadores Favorite Restaurant: Bonfire Mongolian Grill (Nashville, TN)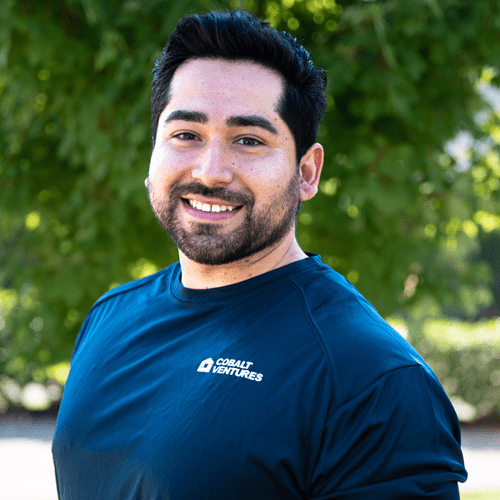 David Gonzalez
Construction Manager
David Gonzalez joined the Cobalt team in August of 2022 as an Assistant Project Manager. Prior to joining us, David worked for a company in San Jose, CA where he served as a project manager and site foreman. He has experience working on commercial and industrial projects, including notable builds such as the Marriott Hotel in Santa Cruz, CA; Hyundai North America Headquarters in Redwood City, CA; and the Tesla Factory in Fremont, CA. David has a passion for problem solving and the ever-changing nature of the job. Seeing clients happy with the end result is also a highlight for him. Outside of work, he enjoys staying active by going to the gym and taking hikes with his dog. He also enjoys using his artistic talents to illustrate children's books and create canvas paintings. Quick Items Hometown: San Jose, CA Favorite Jobsite Tool: Dewalt Reciprocating Saw Favorite Sports Team: San Francisco 49ers Favorite Restaurant: Tony's Napoletana (San Francisco, CA)